Do we know that interesting tools come out of it all the time, but are you sure you really know the ones that simplify and speed up your work as a social media manager? We have collected 5 that, after having known them, will become indispensable for your work.
Of course, most of the tools we offer allow you a free trial that is more than enough to understand its effectiveness and understand if it fits your needs.
Grammarly
Do you remember when in junior high you had your trusted friend who read the theme for you and gave you some spelling correction? Well, Grammarly works the same way. In fact, it's a great way to spell-check your posts on social media. Even when you publish something on social media that you think is perfect, it happens that people sometimes comment with corrections. Maybe you just used the wrong spelling of a word, but Grammarly will help you solve this problem. The program can also analyze your writing due to the improper use of words, highlighting any errors, just like the standard spelling check.
Milanote
Milanote offers a perfect way to manage posts, competitions and updates of your social media properties. This social media calendar template is the perfect way to plan your posts and deliver your best work. Milanote's drag-and-drop interface allows you to arrange columns, notes, lines, links, files, videos and tasks on an infinite virtual canvas.
To learn more, check out our step-by-step guide on how to put together a social media calendar.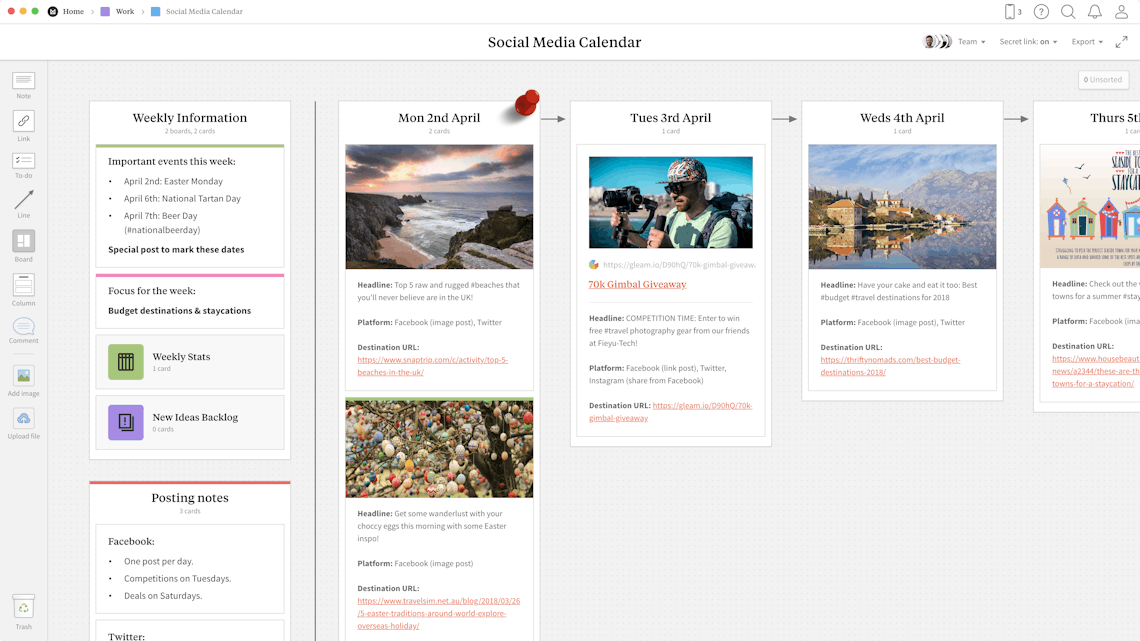 FlexClip
FlexClip is the service that points straight to do-it-yourself video marketing. The app includes tools that ensure, to those who have never edited a video, to self-produce frequent videos to populate social channels and win new customers. It is an online video editor that edits video by adding pictures, music and moving text. The additional quality compared to other tools, is that it allows you to easily start from predefined templates. FlexClip is free but you can get a version of the plus account for $7.99 a month, which allows you to remove the watermark.
Crowdfire
Crowdfire is a web app for iOS and Android, which allows you to publish on Twitter and Instagram, interact with followers, delete them or find new ones based on keywords. It also allows you to plan based on the best times to publish. Since the Instagram API does not allow planning, Crowdfire guides you through the process of creating content on your smartphone and allows you to save it in a reminder. The app itself will send you a notification at the scheduled time, so you can manually post your post.
The visuals are an essential part of your items contained on social media. You can create them in the best way by using this tool. It is easy, intuitive and quick to load and download the materials created. What's more, DesignCap offers many different templates based on social media you need to use, including posters, infographics, Facebook cover, etc.
G-lock
If you regularly send emails for newsletters or promotions, you may have had doubts about whether your mail really reaches your customers or is blocked in the spam or promotions tab. This tool offers an interesting solution. By adding code at the end of your e-mail, G-Lock will filter to tell you if it will go to the Gmail Promotions tab, the spam folder or the inbox. You can create a segment in your contact list, send your message to that small segment and watch the results arrive for testing. The additional solution is that this tool also shows you what's wrong with your email so you can fix it.
InVideo
InVideo is an excellent online video editor software designed for anyone looking to make awesome videos in just a few minutes. It's a quick, easy, and affordable online tool that you can use for free. The company offers a free plan with access to all the editing features. On the free plan, you can create and export up to 60 videos every month with the help of exceptional features available. InVideo comes with an extensive library of over 2,000 easy-to-use templates. You can customize, organize all color plates to suit your business requirements. Users can also add a voice-over or simply use the tool's built-in text-to-speech technology to create incredible videos.
Comments your view.
No one becomes poor by sharing!!! share knowledge… share it…